March 22, 2019
Last June, the National Council of Architectural Registration Boards (NCARB) published its 2018 edition of NCARB By the Numbers. While diversity among new architect licensure candidates improved over 2017, and non-white individuals now make up a larger percentage of the profession, non-whites abandon their pursuit of licensure at higher rates. Further, although gender equity is improving (one of every three new architects is a woman), early Equity in Architecture 2018 survey results reveal that female architects and designers earn less than their white male peers, as do minority individuals and are less likely to hold positions of leadership.
In short, the state of cultural diversity in architecture design firms needs to improve. Firms have been slow to get up to speed regarding diversity and equity, unfortunately. At HMC Architects, however, we continue to take steps to ensure our company rises above these baseline statistics.
HMC Architect's History and Diversity Mission
Since 1940, HMC has designed healthcare, education, and civic architecture with a keen focus on sustainable and regenerative practices. Our design teams consist of innovative problem-solvers and dreamers, who are passionate about their craft. And our decades of experience has given us a unique perspective on the evolution of the profession and the many skilled people who make up our workforce. We will never stop changing, not only with the times but ahead of them. Last year, as a result of prioritizing talent diversity and equity, we were named by Architect Magazine one of the top firms for equity hiring in 2018.
Cultural diversity is a mission that we take to heart because the importance of diversity in architecture extends beyond the value a company gains in employing the most qualified candidate. Buildings in all sectors—but particularly those in the civic sector—need to be reflections of the communities they serve. When diversity isn't adequately represented in our profession, critical opportunities that encompass multiple cultural and social views can be missed. HMC believes that diversity in the workforce produces diverse ideas that pave the way for all-inclusive innovation in architecture.
Cultural Diversity in Architecture Design Fosters Inclusion and an Open Company Culture
HMC is proud to be a diverse collection of individuals. We are focused on ensuring our internal demographics reflect the communities we serve. The majority of HMC's employee population consists of minorities when comparing whites to non-whites, and there is nearly a 50/50 split among males and females.
Driving diversity in talent selection is only one part of our effort, however. Ensuring inclusion in programs and fostering an open company culture is equally important. A clear example of our sincere and proactive measures includes a recent effort to ensure all professional staff go through diversity and inclusion training. As a response to our ever-changing workforce and HMC's need to reinforce an open and welcoming environment, starting in 2019, all professional staff will be required to go through diversity and inclusion training.
This training will include concepts such as anti-bullying, anti-violence, and tolerance in the workplace. In addition to this, HMC invests in programs that focus on the demographics we know need the most assistance. For example, we recently launched a student loan paydown program. With 45 percent of new licensure-track participants identifying as non-white, there's a clear indication that the younger workforce is highly diverse. We feel that our student loan paydown program will help us to reach and support the next generation of architects. This effort not only benefits our company but also the profession as a whole.
HMC also helps professionals on their path to licensure with educational support and monetary incentives. When individuals are economically challenged or lack an adequate support structure, it's much more difficult to take the necessary steps toward pursuing licensure.
In our experience, we are seeing fewer people enter the architect profession than in years past, regardless of ethnicity. We believe this is due to the effect the economy has had on the design and development industry overall. As the economy continues to strengthen, we expect a resurgence in licensure and we will remain steadfast in helping our employees reach their goals.
Of course, we also continue to reward great performance. Throughout an employee's career at HMC, we consider employee promotion and compensation absent of any regard to ethnicity or gender. We concentrate on the quality of an individual's contributions, thereby removing any discriminatory elements from our decision-making process. We also invest in training and career-goal programs, and offer work schedules that support a healthy work/life balance. For some workers, having flexibility at work is key to managing their lives and families. We have found this particularly beneficial for families who have a less-traditional lifestyle, where single parents and dual working parents have the flexibility to manage both work and life.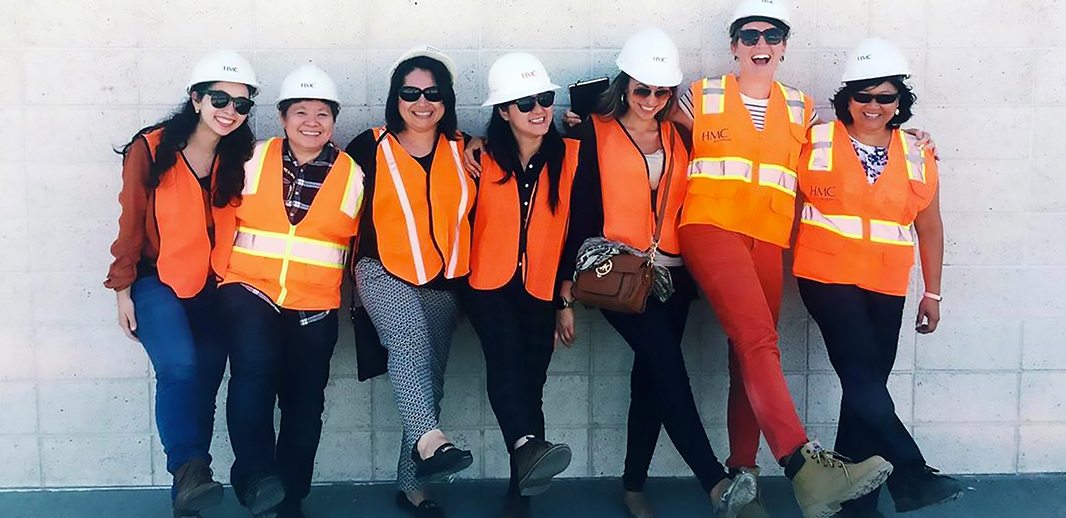 A Future that Embraces Diversity
A current key focus of talent acquisition is to attract and engage emerging professionals as they graduate, as well as existing workers. We do this because the graduate population is more diverse than the population that currently exists within the industry. This approach helps us best fuel diversity and keeps us at the top of our game.
As we continue to move forward with our diversity initiatives, we will increase our focus on programs that center around professional empowerment, including balanced female representation at all levels.
Providing mentors and opportunities for leadership to our employees will only bolster this initiative.
---
Architecture needs to represent and support all people, and that can only happen when cultural diversity in architecture design firms is embraced. To learn more about our approach to diversity, contact HMC Architects today. To inquire about a role within the organization, email Alan Lamonica, Vice President, Human Resources, directly
---